May 15th, 2011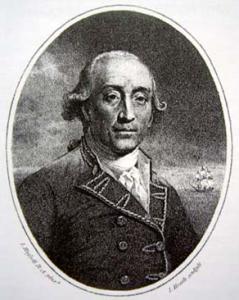 "The most extensive contact the Palauans ever had with outsiders, was during the time of Captain Henry Wilson, captain of the East India Company's packet the Anetlope, when his ship was wrecked off Ulong in 1783. Probably that was the first time that Palauans and Europeans ever came into contact for an extended period of time and actually co-existed or tried to understand each other. Captain Henry Wilson was here for six months when his ship was shipwrecked.

"From the accounts received, it was a positive relationship. We read that it was a very humane kind of a treatment. The Englishmen were very kind, although they had guns and knives and muskets, they wanted to be friendly with the islanders and the king also was kind because he was curious."

Ulong Island, once inhabited in the ancient days, was remote from the settled areas of Palau when Wilson arrived. But it was under the control of the Ibedul of Koror nonetheless.

"Most of the time the Palauans were very curious about the color of their skin, the color of their hair, the way they talked, their mannerisms. This was all very new to them, so it was sort of like an exchange, a cultural exchange if you will, between two different cultures, and they were trying to find out things, to understand each other in this situation.

"The Englishman really had no choice but to be kind to the locals, because they needed them and they needed to stay and they needed to get themselves ready to go on to do their journeys."

"But Captain Henry Wilson was an exceptional man and he was of very high society. He was a gentleman of the highest order. He treated the natives very, very kindly. And throughout this, guns were exchanged, the Palauans had a taste of cigarettes and smoking, and taste of the whiskey. And the Palauans in turn exchanged bananas and brought food and all of that, so there was this kind of good social exchange between them."

"His first agenda was to get his ship repaired and then go back to England and report what he found; and then continue his voyage, which was commissioned by the Queen to explore this area, to lay claims to some of the islands and the lucrative spice trade that was going on in this area.

"So after six months, they finally got the ship together: they cut the lumber here and took whatever they could from the ship and rebuilt the Antelope. The name of the ship was the Antelope, and it sailed back to Macau.

"When they went back to England, they took Leeboo, who was the son of the Ibedul, the high chief of Koror. And they took him to England, but he died of smallpox there. The East India Company erected a monument over Leeboo's grave in St Mary's Churchyard, Rotherhithe. It was Wilson who gave the archipelago the name "Pelew Islands".